Sunny Leone's fun outing in Lake Balboa with her family!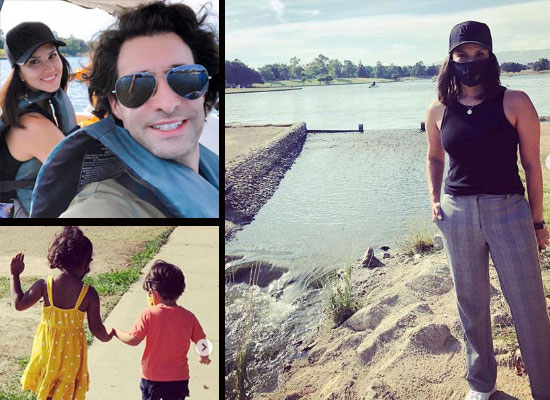 Earlier in May, due to threat of increasing Coronavirus cases in India, Sunny Leone along with her three kids Nisha Kaur Weber, Noah Weber and Asher Weber and husband Daniel Weber flew to Los Angeles. She had disclosed that she had the chance to take her children where they felt they would be safer against the unseen killer "corona virus", hence she flew to a secret garden in Los Angeles. Since then she is spending quality time with her family.
Recently, Sunny treated admirers with a few photographs of her from her recent outing to Lake Balboa with her kids and hubby. In the first photograph, we can see Sunny posing for the camera wearing a mask on her face. She has also posted photographs of her kids Nisha, Noah and Asher having some fun time at Lake Balboa. The last photo is of Sunny posing for a selfie with her hubby Daniel enjoying a boat ride. Sharing the photographs, Sunny posted, "So much fun finding a new place to take the kids and keep them away from people :) @dirrty99 good job baby finding this place! Lake Balboa!"