Priyanka Chopra Jonas to enjoy 'Daulat Ki Chaat' in Delhi!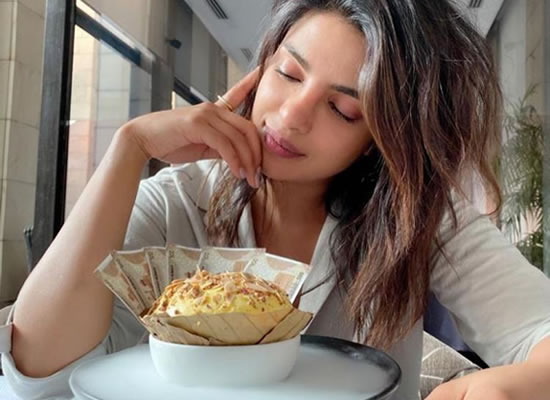 As per reports, Priyanka Chopra Jonas is presently in New Delhi where she is shooting for a project with Rajkummar Rao.
Recently, Priyanka shared some photographs of her unique dessert on social media. She took to Instagram to share a photograph in which she can be seen getting amused by a dessert she is all set to relish. In the photograph, we can see the well-known Delhi dessert, 'daulat ki chaat' but with a twist. The twist in the dessert is what left Priyanka amused. In the photographs of the dessert, we can see currency notes on the sides. Daulat in english means wealth and hence, the restaurant literally also served up a dessert to Priyanka that had money in it. Seeing it, Priyanka couldn't resist and shared the distinctive sweet with her admirers.
Rajkummar Rao also snapped the photographs of the dessert and Priyanka's amused expression on seeing the same. Priyanka captioned the photograph as, "Cash in my dessert. Now that's a first #daulatkichaat #onlyinindia #delhistories #setlife @RajkummarRao."