Bipasha Basu to celebrate as daughter Devi turns 10 months old!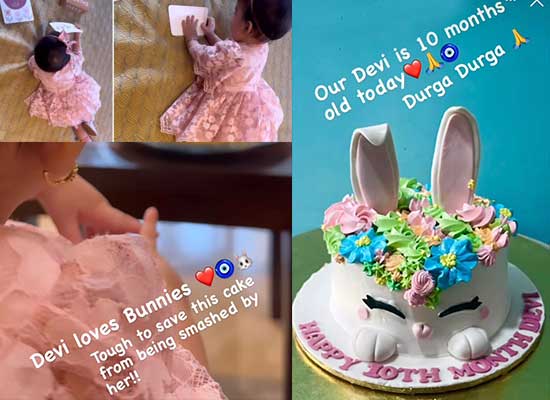 On September 12, Bollywood stars
Bipasha Basu
and
Karan Singh Grover
celebrated the 10-month birthday of their daughter
Devi Basu Singh Grover
. The couple planned a small birthday celebration for their child. The actress also posted a preview of the party on social media to share with her friends and followers.
Devi Basu Singh Grover was born to Bipasha Basu and Karan Singh Grover on November 12, 2022. The Race actress revealed that her baby was born with a medical issue that caused her restless nights in an earlier interview with actress Neha Dhupia. The infant is now healthy, and on September 12, her entire family joined her in celebrating her 10-month birthday.
Mommy dearest Bipasha Basu posted pictures of the wonderful birthday celebration they threw for her child on Instagram. Bipasha shared numerous images from their house party on her Instagram stories. Devi's bunny-adorned birthday cake was shown in one image. Devi was clearly thrilled to see her cake in a video that Bipasha posted on her Instagram stories. Devi enjoys rabbits. It was difficult to prevent her from smashing the cake, Bipasha stated as she posted the images.
The actress also shared a little clip of Devi, a young child, playing on the ground. The child was dressed elegantly in a pink outfit, a pink hairband, and matching socks and shoes, making her seem charming. Sharing the video, the actress posted, "Our Pudding turns 10 months old today."