Aishwarya Rai Bachchan and daughter Aaradhya get a warm welcome in France!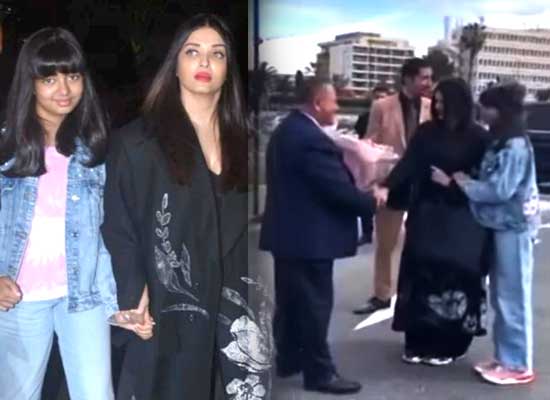 When it comes to style, actress Aishwarya Rai Bachchan never disappoints. The stunning diva has succeeded in turning attention with her opulent performances at Cannes Film Festival throughout the years. The actress is prepared to stroll the red carpet in elegance once again this year. Aishwarya was recently spotted on a quick trip to France with her daughter Aaradhya Bachchan to attend the Cannes 2023 film festival. The mother-daughter team is currently trending on social media in a brand-new video. They were seen travelling in style to France.
Aishwarya may be seen wearing an oversized black overcoat, matching trousers and trainers in the video that her fan club posted. Her daughter is spotted wearing denim over denim. When they arrived in France, they were welcomed with open arms. A man is seen presenting Aaradhya a sizable bunch of flowers. The celebrity child even gave the father a warm hug.
Aaradhya frequently travels with her mother to events. Fans can't wait to watch Aishwarya and her child walking the red carpet in Cannes. Every year, she dresses to impress and makes a memorable entrance on the red carpet.