Abhishek, Aishwarya and Aaradhya Bachchan to attend sarod maestro Amjad Ali Khan's concert!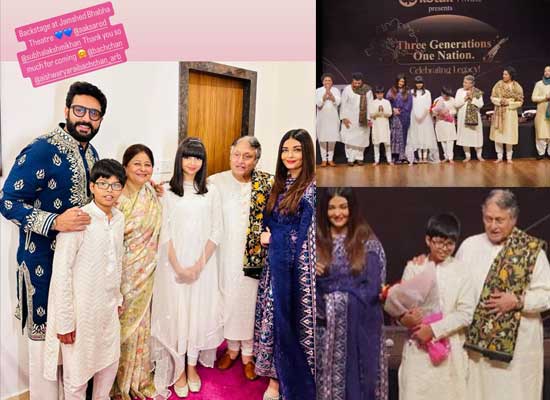 Unquestionably, the couple of Abhishek Bachchan and Aishwarya Rai Bachchan is one of the most popular in Bollywood. Despite neither of them being particularly active on social media, people adore them whenever they post photos of themselves together on special occasions or are photographed together by paparazzi. They went to a musical performance recently in Mumbai with their daughter Aaradhya to see Ustaad Amjad Ali Khan, a master of the sarod, perform live with his sons Amaan and Ayaan Ali Bangash and grandchildren Zohaan and Abeer. Abhishek, Aishwarya, and Aaradhya also photographed with Amjad Ali Khan after the show.
Abhishek Bachchan, Aishwarya Rai Bachchan, and Aaradhya Bachchan may be seen posing backstage with Ustaad Amjad Ali Khan, his wife Subhalakshmi, and their grandson in a photo that has surfaced on Instagram. Aishwarya wore a royal blue anarkali suit with pink and white embroidery, and she looked just stunning. She posed close to Amjad Ali Khan while beaming. In the centre, Aaradhya could be seen wearing a white anarkali outfit and sheer net dupatta, looking stunning. Abhishek Bachchan also wore blue clothing in the meantime. He looked sharp in white embroidery on a blue ethnic kurta and white pyjamas.