Samantha Akkineni's loveable selfie with her new pet Saasha!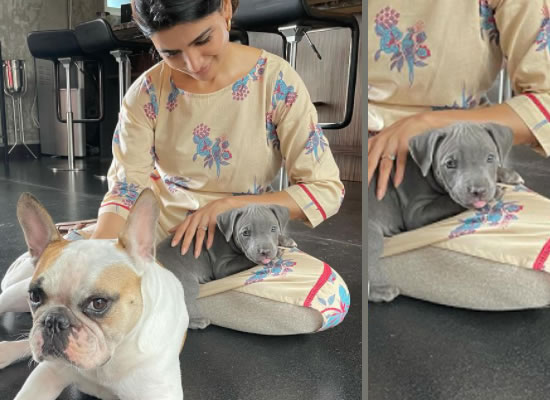 The south diva Samantha Akkineni is one of the fitness enthusiasts in Bollywood.
Recently, Samantha was accompanied by pet Saasha and post-workout she snapped a happy selfie with her new baby. Sharing the pic on Instagram, Samantha captioned it, "In case you hadn't noticed."
Lately, the south actress penned a self-appreciation post for pulling through the day with no sleep. She posted, "I am superhuman for pulling through today's workout @snehadesu. This is a self-appreciation post. Lack of sleep. Lost my sense of smell. Tired and edgy. Grrrr. Reminding myself how much I love my babies..NOT (sic)."
Introducing her new little furry pet Saasha to the world with a loveable pic, Samantha posted, "Cleaned the 19th puddle of pee today and it's only 9 am..but the cherry on the cake has to be the moment that I sat down with my coffee thinking ha!! 5 minutes of calm now..only to notice one tiny little monster running with her dripping pee pad all around the house..and suddenly my coffee isn't strong enough. Say hello to SAASHA #pitbullsofinstagram #HashandSaasha #brotherandsister #itsgoingtobeaparty."