Vicky Kaushal to attend Gulmarg Festival!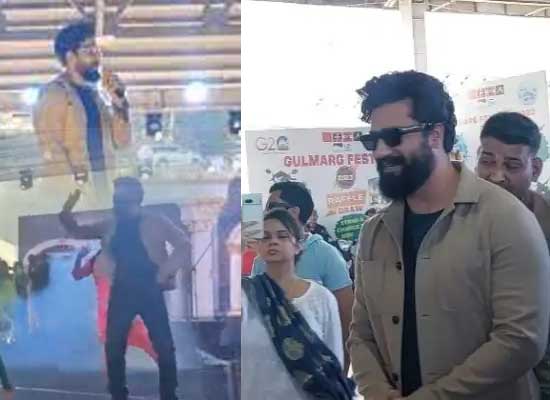 Vicky Kaushal is one of the most popular and successful actors in Bollywood. He has made a name for himself in a very short span of time. Apart from his acting, Vicky is also known for his charming personality off-screen. He is often seen clicking selfies with his fans and breaking into an impromptu dance in front of the camera on his favourite Punjabi songs.
The actor from URI recently went to the Indian Army-organized 2023 Gulmarg Festival in Gulmarg, Jammu & Kashmir. Vicky looked gorgeous in a beige top over a black t-shirt, black trousers, and white shoes. He also got up on stage and performed a dance to the well-known Punjabi tune Palazzo. Vicky boosted the festival's vigor with his breezy performance.
The Masaan actor was asked if any of his relatives had put pressure on him and Katrina Kaif to announce "good news," which is another word for having children, during a media interaction with a close source. "Koi bhi nahi daal raha. Vaise bade cool hain. (No one. They are cool people)", he said. Vicky was also asked who was the first to know about him dating Katrina Kaif. He revealed, "The first ones to know at home were my mother and father. He also said that he told both of them together. The host then joked if his parents believed what he told them. In response, Vicky took a pause and said, "Vaise toh kar hi lia that (I think they did believe me)." The hosts also joked that his parents got the news through paparazzi to which Vicky said, "Bhai aise toh din nahi aaye ki Viral se pata lage. (The situation isn't such that they'll get to know about it from Viral.)"
Vicky's upcoming film, The Great Indian Family, will be released on September 22. His upcoming endeavors include Mere Mehboob Mere Sanam, Dunki, and Sam Bahadur.