Karishma Tanna to portray the role of journalist Jagruti Pathak in Netflix's Scoop!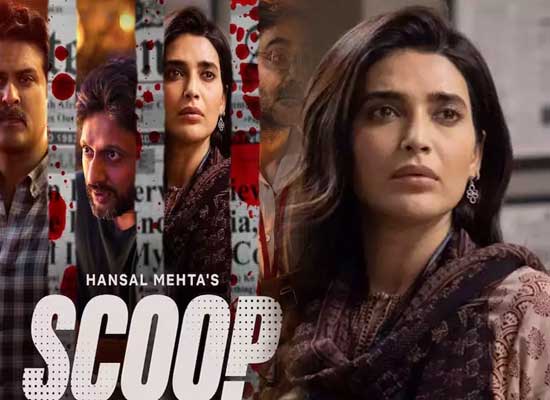 Scoop, a movie starring Karishma Tanna, Mohammed Zeeshan Ayyub, Harman Baweja, and Prosenjit Chatterjee, is now available on Netflix. It is one of the most thrilling programmes of 2023 and is directed by Hansal Mehta. Mehta had dazzled viewers with his series Scam 1992, and as a result, netizens anxiously anticipated Scoop. It's even more intriguing because the show is based on the true account of Mumbai-based journalist Jigna Vora, who was detained in 2011 for allegedly planning the murder of seasoned crime reporter J Dey with gangster Chhota Rajan.
Jigna was a crime reporter for a prestigious Mumbai newspaper. She completed a diploma programme after completing her law studies at Mumbai's Ruparel College. She was persuaded to pursue criminal reporting by a member of the faculty. Her parents compelled her to turn down the chance to wed a man who purported to be an engineer and ran a printing press in Gujarat while she was an intern with a law company. Their marriage ended poorly when she later found that none of it was true. She brought her 4-year-old son back to Mumbai in 2004 and made the decision to pursue a media career. She began working in the media as a court reporter in 2005.
Jigna covered her first underworld story in December 2005 when Sujata Nikhalje, the wife of criminal Chhota Rajan, was detained for making extortion threats against a builder. However, Jigna first gained fame in 2011 when she was named as a suspect in the murder plot of crime reporter Jyotirmoy Dey.
Mehta's Scoop is currently streaming on Netflix. Karishma is portraying journalist Jagruti Pathak, who is charged with aiding Rajan in the murder of her colleague Jaideb Sen. The most of the characters have had their names changed, however Chhota Rajan's name remains the same.