Kareena Kapoor Khan shares guidelines to stay safe amid COVID 19!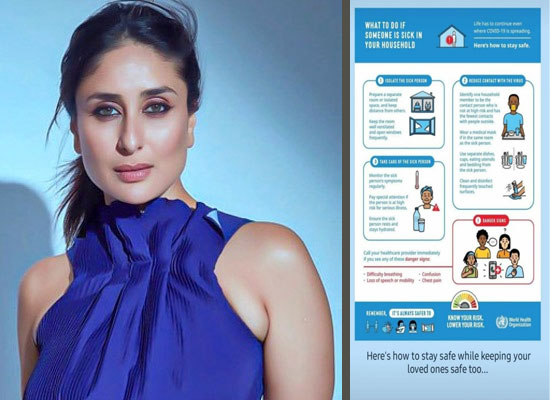 Due to COVID 19 outbreak, the nation is presently battling the disease at home and at hospitals. Amid all this, Bollywood celebs are coming forward to raise awareness about safety protocols. Now, Kareena Kapoor Khan has also joined in and posted WHO prescribed guidelines to take care of loved ones who are sick at home while remaining safe.
On her Instagram stories, Kareena posted a step by step guide by WHO (World Health Organisation) in which there were 3 steps prescribed by them to take care of sick loved ones at home. In the first step, it was advised to isolate the sick loved one. In the second step, it was advised to reduce contact with the virus and in the third step, guidelines to caring for the sick person were prescribed. Sharing the document, Kareena advised everybody on how to take care of their loved ones while keeping themselves safe.
On the film front, Kareena will be seen next with Aamir Khan in Laal Singh Chaddha.