Jaya Bachchan loses her cool at man clicking her Pic!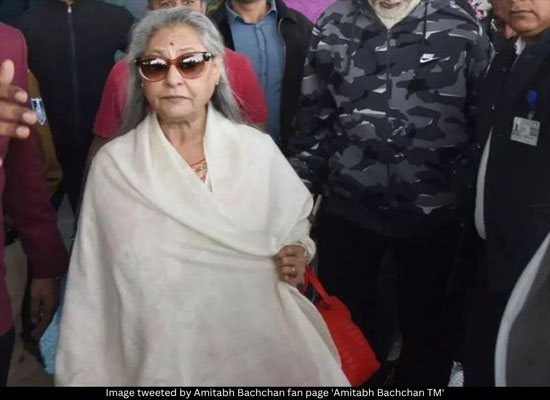 Veteran actress Jaya Bachchan and her encounters with the paparazzi and fans are quite popular. The 'Kal Ho Naa Ho' actress often makes headlines for her odd run-ins with fans and paps who try to click her pictures. Jaya Bachchan has been vocal about her dislike of being mobbed by fans and paparazzi and is often seen getting angry at them for capturing her without her consent. Recently, videos of her schooling a man for taking her pictures are going viral.
Jaya Bachchan was spotted at the Indore airport with her husband and megastar Amitabh Bachchan when the incident took place.
Taking to Instagram, a paparazzo account shared a clip of Jaya talking to people at the Indore airport.
In the video, as Jaya Bachchan was seen interacting with people, a person was captured taking her photos. Several others were also around her with cameras.
Jaya Bachchan lost her cool and said, "Don't please take my pictures. Please don't take my pictures. You don't understand English?"
The people and security around her then asked the man to not click pictures and pushed him back. They also told other fans to move aside and put down their cameras.
During this moment, Amitabh Bachchan walked in and the duo was welcomed with bouquets. While walking, Jaya said, "Aese logo ko naukri se nikaal deni chahiye." Big B, who maintained his calm, looked at Jaya Bachchan for a brief moment before the couple walked away.