Alia Bhatt's granddad Narendranath Razdan's sad demise!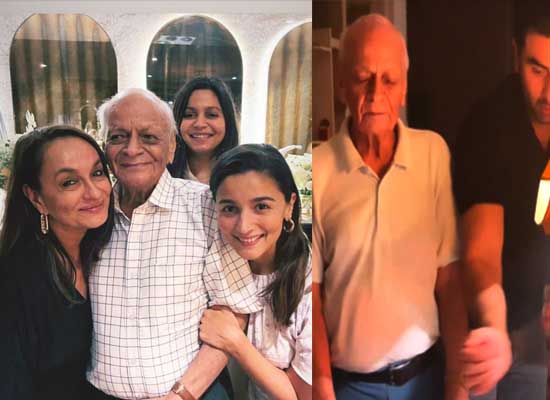 Actress Alia Bhatt informed followers on social media on Thursday afternoon that her grandfather Narendranath Razdan has gone away. According to current reports, he was recently hospitalised in Mumbai due to his serious health. Alia decided to postpone her vacation to Abu Dhabi as a result. Soni Razdan's father passed away today. Ranbir Kapoor and Alia posted a touching video from his 92nd birthday party.
In the video, Alia's grandfather is seen having a family birthday celebration for his 92nd birthday. Alia is heard urging him to make a wish before cutting his birthday cake. Ranbir, on the other hand, is seen standing close by and supporting him as he blows out the candles. Her granddad shared words of wisdom as he said, "Smile all the time."
Alia included a touching letter with the video, expressing her sorrow at his passing. She described how he had a rich life. She added that he engaged in playtime with Raha, his great-granddaughter. Her post read, "My grandpa. My hero Played golf till 93, Worked till 93, Made the best omelette, Told the best stories, Played the violin, Played with his great granddaughter, Loved his cricket, Loved his sketching, Loved his family & till the very last moment.. loved his life! My heart is full of sorrow but also full of joy .. because all my grandpa did is give us joy & for that feel blessed and grateful to have been brought up by all the light he had to give! Until we meet again."