Sofia Vergara to reunite Modern Family cast after 3 years!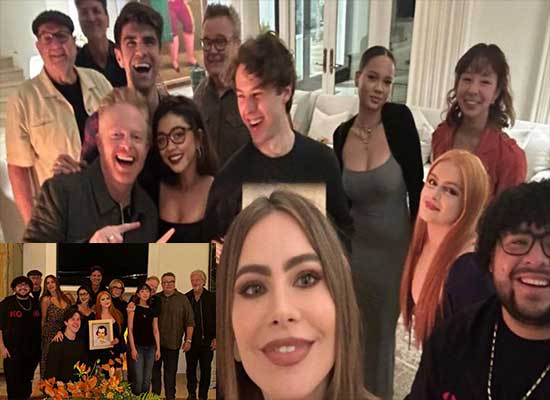 Despite the show having finished three years ago, Sofía Vergara, best known for her role as Gloria in Modern Family, recently organized a joyful get-together for her former co-stars. Her Instagram photos from the event sparked fans' excitement over this unexpected reunion. On November 15, the group got together right before Thanksgiving.
51-year-old Sofía Vergara stated in the picture captions, "So lucky to have worked with this [sic] people for 11 years. I love and miss u all guys!!! #modernfamily." Ariel Winter, Julie Bowen, Sarah Hyland, Eric Stonestreet, and more well-known stars engaged in the festivities. But Ty Burrell, who portrayed Phil Dunphy in the series, was conspicuously absent. They brought up a framed picture of Ty to include him in the celebrations, and Sofía tweeted a video of everyone saying, "We miss u, Ty!"
Fans became concerned after Sofía shared about Ty's absence and even went online to make sure he was alright. Some even went into a joking panic, believing he had suffered some sort of trauma. In the comments section, Jesse Tyler Ferguson—who portrayed Mitchell in the show—thanked Sofía for organizing the fun evening.
A few fans were hoping for a new season or film as a result of their reunion. A fan remarked, "Just an idea. You guys love to hang out and work together. Just do another Season or a Movie! We won't be mad. I promise (laughing and kissing emoji)," while another requested, "Modern Family The Movie PLEASE"
A few others complimented their closeness as though they were a true family. One fan added, "I love the fact that you guys really became a family. we don't see this strong bond in every cast on TV. you guys are so special!!"