Malti Marie looks adorable in a new pic with her furry friend Gino!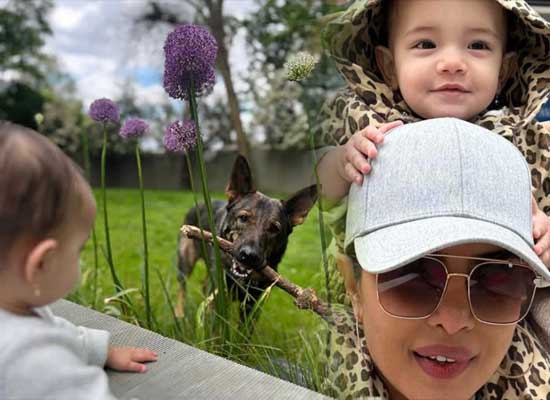 Malti Marie, the daughter of Priyanka Chopra and Nick Jonas, is already well-known online. Every time the couple posts a photo of their child, it quickly becomes viral on social media. On Sunday, a fresh image of Malti Marie appeared online, and intriguingly, the dog of Priyanka and Nick, Gino, shared it. They have their own Instagram accounts and three dogs: Gino, Diana, and Panda. Gino's Instagram account has released a brand-new photo of him with Malti Marie, and it is impossible to miss!
'Gino Chopra Jonas' is Gino's handle name. In the pic, Malti Marie can be seen adoringly gazing at Gino as he stands with a stick in his mouth. A grey sweatshirt is spotted on the munchkin. It appears like Gino wants to play fetch with Malti Marie. The image was posted along with a humorous caption. The caption said, "Don't think she understands Fetch."
After the pic was shared online, fans were seen reacting to it. One of the admirers posted, "She'll get there some day Gino." Another admirer wrote, "Gino is going to be her best friend and protector." Others were also excited to see Malti Marie and Gino together. They dropped red hearts and love-struck emojis in the comments section.