Anupam Kher opens up about the massive success of Pathaan!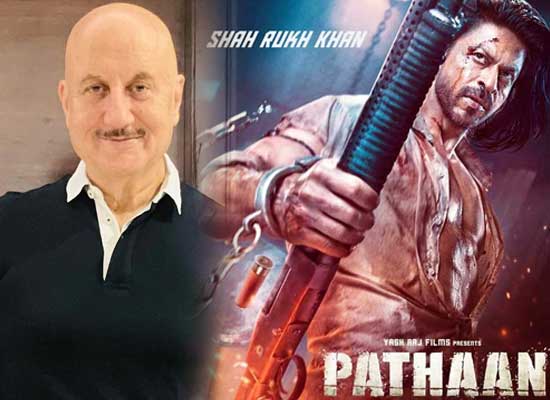 One of the biggest box office triumphs in recent Indian cinema is the spy thriller Pathaan, which stars Shah Rukh Khan in the lead role. The film, directed by hitmaker Siddharth Anand, has proven once again that if movies are well-made and promoted, moviegoers will return to the theatres in huge numbers. In its whole theatrical run, Pathaan, the fourth movie in Yash Raj Films' espionage franchise, is predicted to break numerous other previous box office records.
In a recent interview with a daily, veteran actor Anupam Kher talked openly about the enormous success of Shah Rukh Khan's most recent film. "No one gets influenced to watch a film by following a trend. If you liked the trailer of the film, you want to watch it. If the movie is well-made, no one has the power to sabotage it. People will even go to watch the film with a feeling of vengeance against the hate trend," specified the actor.
"The audience never boycotted cinema. We had gone through the pandemic, there were lockdowns, and people were asked to sit in their houses. This has happened after 100 years or something. During this phase, audiences did look out for other means of entertainment. The OTT platforms saw a boost, and they started watching the films with ease. To bring them out of fear takes some time," Anupam Kher stated.
In the movie Pathaan, which is produced by Aditya Chopra under the umbrella of Yash Raj Films, Shah Rukh Khan portrayed the title role. Dr. Rubina Mohsin was played by Deepika Padukone, who also served as the film's female lead. Jim, the main antagonist, played by John Abraham, is a former RAW field offer who turns against the nation after losing his family. Tiger from the acclaimed film series of the same name, played by Salman Khan, had a cameo appearance in the movie. The supporting cast included Dimple Kapadia, Ashutosh Rana, Prakash Belawadi, Ekta Kaul, Nikhat Khan, and others.