Kareena Kapoor Khan to get a lovely souvenir for Taimur from Australia!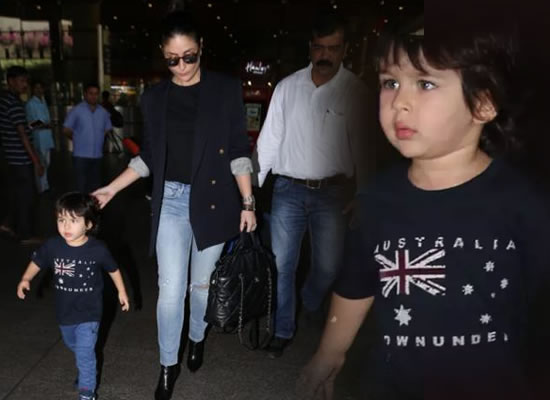 Well-known son-mother duo Taimur Ali Khan and Kareena Kapoor Khan are back in the city after their Australian vacation and yesterday, both were snapped at the Mumbai airport. While Kareena astonished in a formal look as she wore a blazer with jeans, Taimur as always, looked cute as a button as he wore a blue tee paired with blue jeans but what caught our attention was Taimru's tee as it read Australia and looks like, mother decided to buy a souvenir for his son which he decided to wear on his way back to the bay.
As per reports, Kareena Kapoor Khan was in Melbourne to uncover the trophy for the T 20 matches and during an event, she was questioned as to what will she do if she was stuck in a lift with Ranbir Kapoor's girlfriend Alia Bhatt and his ex-girlfriends- Katrina Kaif and Deepika Padukone and Kareena had said that she will make sure that Ranbir, too is in the lift.