Celebs to attend Ambani's Ganesh Chaturthi festivities!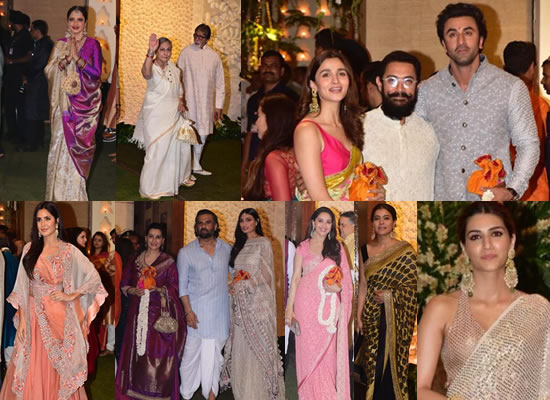 Numerous celebs from Tinsel Town made their presence felt at the Ambani's Ganesh Chaturthi festivities.
Bollywood biggies as Aamir Khan, Katrina Kaif, Abhishek, Jaya, Amitabh Bachchan, Rekha, Alia Bhatt, Ranbir Kapoor and others arrived at the Ganesh Chaturthi celebrations. The stars from Bollywood made their stunning entries in the best traditional attire. The Ambani's Ganesh Chaturthi celebrations also had Kriti Sanon, Kajol, Karisma Kapoor, Athiya, Suniel and Mana Shetty in attendance. Numerous stars from Hindi Film Industry have also posted photographs of their Ganesh Chaturthi celebrations on their respective social media platforms.