Yes, I am worried, says Sidharth Malhotra on Aiyaary's clash with 2.0!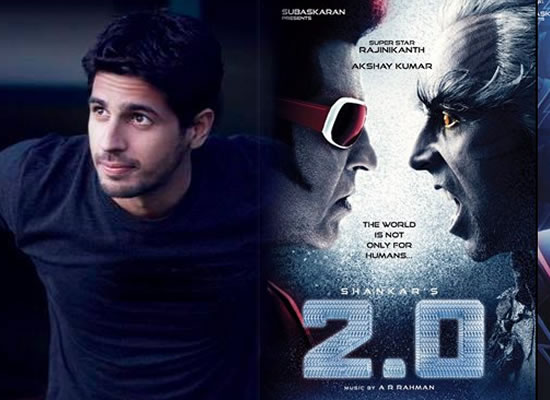 Superstars Rajinikanth and Akshay Kumar starrer 2.0 is one of the most awaited movies next year. The movie also marks Akshay Kumar's Tamil debut as an antagonist. The buzz around the movie doesn't cease to die with the distributors and trade pundits are expecting this to be one of the biggest openers next year. The movie is all set to release on January 25, 2018. 2.0 would be clashing with Sidharth Malhotra's movie Aiyaary which is slated to release the very next day - January 26, 2018.
Is Sidharth worried about the clash? At a communication recently, he told, "Yes, I think that is pretty unfortunate. But we don't know as yet. Actually, we have also not finished Aiyaary and even they haven't finished their shooting or their post. So, let's see we still have time. I have two other films to release, so I am more worried about that (laughs)."
Speaking about his film, he told, "Aiyaary is something which we are just about to finish. It's Neeraj Pandey who I love. He's always come up with good content and message driven films except probably the M.S. Dhoni movie, whether it be Baby, A Wednesday or Special 26."
He further added, "Aiyaary is going back to that zone. He's taking a nice take on our armed forces and the politics that happens there. It has a mentor and protégé that is, me and Manoj Bajpayee. We've shot in London, Kashmir and we will be shooting in Delhi again. Neeraj is a fabulous writer and director and I'm very excited for the film as you will get to see something new. So for the next 6 months (A Gentleman, Ittefaq, Aiyaary), you will get to see a buffet and variety from me."