This is a very sensitive yet brave subject, which needed my utmost care and attention, says Akshay o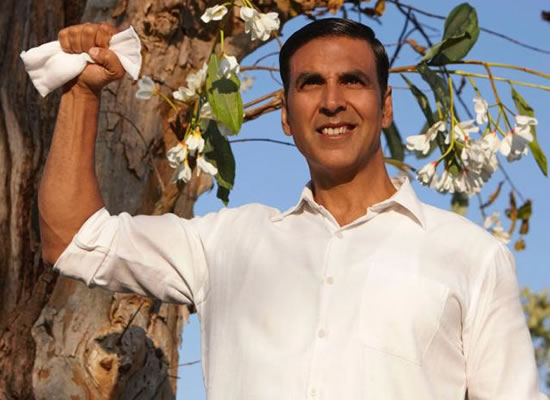 Evergreen star Akshay Kumar is presently busy in promoting film Padman which is inspired by the life of Arunachalam Muruganantham, who was the pioneer of inventing low-cost sanitary napkins in rural India. Helmed by R Balki, Padman also stars Sonam Kapoor, Radhika Apte among others and has Amitabh Bachchan in a cameo role. It is scheduled to release on February 9, 2018.
In a media chat with a tabloid, Akshay spoke about Padman and menstrual hygiene and producer Twinkle Khanna.
When questioned if PadMan's unconventional subject is making people uneasy, Akshay revealed, "Nervous? No! Intrigued? Yes! There's nothing to be nervous about. This is a subject that can, and will only help our society. [In the film] there's no controversial behaviour. In fact, the Censor Board has loved it and hasn't cut a single thing. What more can anyone want from a film with a message? So I'd say, people, instead of being nervous, be encouraged; use this intrigue to spread the awareness we're working so hard to create. This is to better the lives of your wives, mothers and daughters. What's there to be worried about? Come on people, be brave, be mad.''
When questioned is PadMan his career's strongest role yet, the actor told, ''Toughest... physically, no, but career-wise, yes. This is a very sensitive yet brave subject, which needed my utmost care and attention. It was tough in the sense I had to become the 'man' that women really needed me to be, and I didn't want to let anyone down. Being Pad Man takes courage. I not only had to experiment with myself, but also had to learn the ins and outs of sanitation and menstruation. I had to grab hold of this project and give it absolute respect despite any of my own male fears, until I realised there was nothing to fear but my own insecurities.''
What was your guidance to Twinkle as a more experienced producer? To this, Akshay told, "Follow your heart. You'll never be able to do enough, but whatever you do, do it from your heart, and you can't go wrong. Don't let opinions, money, time, or fear change your path. Let the bad times roll because the sun only shines after a storm."