Shraddha begins Badminton lessons with Saina Nehwal for her biopic!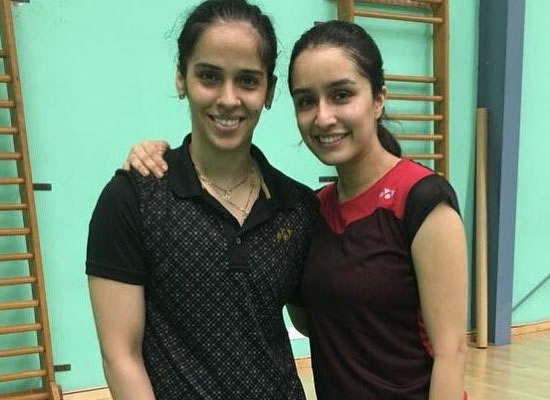 After Haseena Parkar, Shraddha Kapoor is geared up to be a part of yet another biopic. This time, the actress will be seen essaying the role of ace badminton player, Saina Nehwal. The movie is being directed by Amole Gupte.
Shraddha has now commenced training to brush up her badminton skills and helping her is Saina herself. Saina took to Instagram to share a photo of the duo as they are seen posing together with huge smiles on their faces. Both are seen wearing sporting outfits - Shraddha donned a maroon tee with a black tennis skirt and paired them with electric blue sneakers while Saina wore a black collar tee with black shorts and white and pink sneakers.
Her caption reads as, "Today's badminton practice session with @shraddhakapoor #Biopic."
On the other hand, Shraddha shared a picture as well on Instagram from the badminton court where Saina is seen teaching Shraddha as she listens intently and carefully. Her caption is that of a badminton racket and heart emoticons.
We can actually see Shraddha looking the part of Saina. How about you guys!?
In an interview with a tabloid, Shraddha got candid about how Saina's biopic is her most difficult film yet. The actress revealed, "I also played badminton and I'm thrilled that in my quest to be the former World No. 1 and a youth icon, I'll get to train in the sport again. I'm sure it's going to be my most difficult film yet as Saina has spent her whole life playing badminton and in the next few months, I have to get close to the standards she's set."