Kangana and Karan Johar to resolve differences on a reality show?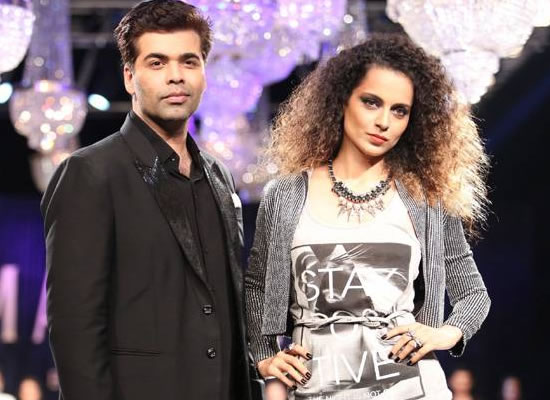 Hindi Film Industry in 2017 was divided into two sections - the poor box office numbers and nepotism. The latter became the topic of the year and the word of the day all thanks to one Ms. Kangana Ranaut, who on Karan Johar's scandalous talk show Koffee With Karan, criticized the filmmaker as the flagbearer of nepotism.
What followed was a war of words which led to a divide between the celeb kids and the actors who were not celeb kids. Things got more heated with the 'Nepotism Rocks' skit at the IIFA Awards 2017 by Karan along with fellow celeb kids Saif Ali Khan and Varun Dhawan. In return, Kangana starred in a viral music video for a YouTube channel which was directly directed at the Kuch Kuch Hota Hai director (and a certain Mr. Roshan).
But, after the topic died down, the two avoided each other frequently and even had awkward encounters at a few events and bashes and it looked like a patch up between the two like Karan and Kajol was not in the works anytime soon.
But, recently, at the press conference of India's Next Superstars, Karan, who is one of the celebrity judges along with Rohit Shetty was questioned about Kangana being a part of the show as a celebrity guest like Priyanka Chopra. To this, KJo responded, "I am sure if the channel invites Kangana Ranaut on the show, we will happily welcome her."
As per a tabloid, Kangana will be shooting for an episode of India's Next Superstars with Karan in tow. Seemingly, the actress agreed to share the stage with Karan as the channel approached her and also paid her a hefty sum for the appearance.
A source revealed the daily, "Kangana and Karan may share different ideologies but that doesn't mean they can't come together on a common platform. It's great that Karan and Kangana will shoot together. But it's a professional call, nothing more should be read into it."