Deepika Padukone and Rajkummar Rao to unite for a film?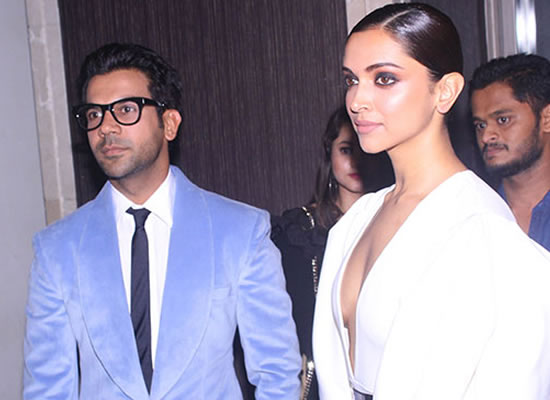 Bollywood actress Deepika Padukone has established herself as numero uno after astonishing performance in Padmavat. All her latest releases have been blockbusters at the box-office.
Deepika is presently on a break recovering from her back injury. She has signed Vishal Bharadwaj's next in which she will star with Irrfan Khan. But, the project has been delayed owing to Irrfan's health and Deepika's back issue.
Rajkummar Rao and Deepika Padukone surprised everybody with their companionship when they met during the Hello! Hall of Fame Awards. Deepika was seen engrossed in an engaging chat with Rajkummar Rao.
A tabloid reports that Deepika and Rajkummar may soon work in a movie together. They have been talking to a well-known film-maker and may sign on the dotted lines soon.
A fan group shared a photo of Deepika and Rajkummar on social media, questioning others to comment if the two should work together. Deepika, retweeted it. It will definitely be interesting to see two power-house performers come together on the big-screen.