The soundtrack of film Lucknow Central is good one with functional quotient.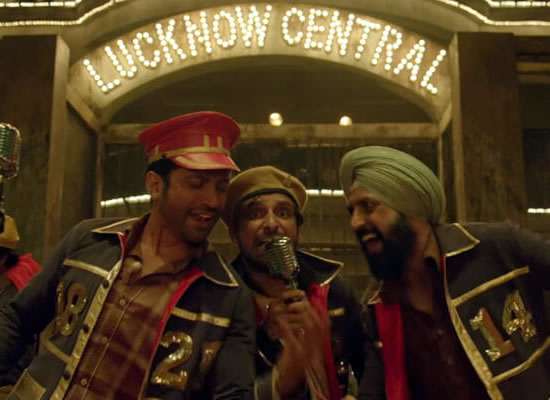 After Qaidi Band, now Bollywood would be witnessing the release of Lucknow Central. The core plot of both the movies is quite alike. There is a bunch of under-trials who form a musical band and plan a great escape. Well, there is a bit of good news though about the music of Lucknow Central. Though it is not extraordinary either, at least it is not avoidable and that is some bit of mercy, courtesy newcomer composer Arjunna Harjaie and proficient lyricist Kumaar.
The very first song is Kaavaan Kaavaan which was heard in Mira Nair's Monsoon Wedding. Divya Kumar is roped in instead of Sukhwinder Singh and while he does a fine job at being energetic behind the mike, you do look forward to how it is eventually placed in context of the Farhan Akhtar starrer.
The next one is Amit Mishra's Meer-E-Kaarwan, a very well laid out track that belongs to the genre of light sufi-rock. Rochak Kohli does well as a composer here and along with newcomer lyricist Adheesh Vermaspins a number that plays in your mind after first listening itself. A beautiful track that is further enriched with the arrival of Neeti Mohan, this one has a good melodious base to it which deserves a repeat hear.
The next one is Mohit Chauhan's Teen Kabootar where he is joined by Divya Kumar behind the mike. Written by Kumaar and composed by Arjunna Harjaie, this one is a situational number where Farhan Akhtar along with his other under-trial friends sing and dance for jailer Ronit Royinside the jail. In the middle of this all there is a rap portion by Raftaar as well though it could well have been done away with.
In the the next one, composer-lyricist Arijit Singh makes a belated appearance with Rangdaari. Though this one is not a hit either, it does establish the past life character of Farhan Akhtar well, as showed in the video. It is a melodious number.
The last song is Baaki Rab Pe Chhod De. For this, a team of Brijesh Shandllya, Arman Hasan, Vayu and Tanishk Bagchi coming together. It tries to be all fun and lively in the context of the movie but what you end up is hearing is a just situational number that is put to tune by Tanishk Bagchi and written by Kumaar.
Overall, the soundtrack of film Lucknow Central is good one with functional quotient. Songs Kaavaan Kaavaan and Meer-e-Kaarwan are melodious and tuneful numbers.