The soundtrack of Bhoomi is an average one with a tuneful number Lag Ja Gale.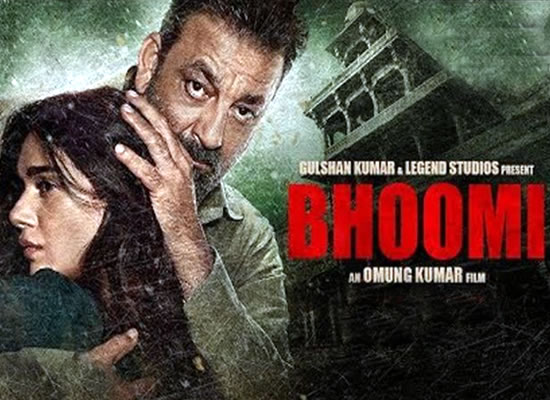 The soundtrack of Bhoomi is not as per expectations from Sachin-Jigar. In the past they have come up with music which has ranged from outstanding to ordinary. After all, for the comeback movie of Sanjay Dutt, there were much better anticipations from the music.
The very first song is Rahat Fateh Ali Khan's Lag Ja Gale. As is predictable from the singer, he does quite well behind the mike. His unique voice is easy on ears and you like the composition as well. Priya Saraiya's lyrics are good. This song actually turns out to be the best of the lot that Sachin-Jigar have to offer in Bhoomi.
The next one is Trippy Trippy. Sunny Leone has been a part of quite a few item numbers and some have turned out to be hits while others may have been very conventional. Neha Kakkar sung number which has Benny Dayal and Brijesh Sandhaliya chipping in as well. As a matter of fact despite the presence of Badshah, this Priya Saraiya written track falls in an average category.
The next one is Sachin Sanghvi's Kho Diya. One half of the composer duo Sachin-Jigar does fairly well behind the mike to come up with a soft romantic song that manages to bring in some sort of 'thehrav'. Though that does make you sit back, relax and enjoy the music for a while.
The next one is Will You Marry Me. It is so 90s in its treatment that you wonder whether Sanjay Dutt himself approved this song due to the nostalgia factor. Written by Anvita Dutt, this Divya Kumarand Jonita Gandhi number has a celebration feel to it where leading couple gets into a fun move with relatives and guests cheering along.
The next one is Sukhwinder Singh's Daag. As is a known fact, Sanjay Dutt had delivered a solid Hit by the name of Daag a couple of decades back. Now he gets into a pensive avtar for Priya Sariya written 'Daag' which brings on sadness and pain to the proceedings. A situational song, one just hopes that this one doesn't linger on for too long.
In the last outing is Vayu & Utkarsh Naithani written Jai Mata Di which has the pain factor continue with Sanjay Dutt coming behind the mike. While he begins the proceedings and also makes his presence felt occasionally, Ajay Gogavle takes care of the core singing part. Again, a situational track.
Overall, the soundtrack of Bhoomi is an average one with an enjoyable song Lag Ja Gale. Lag Ja Gale is tuneful and pleasant.