The soundtrack of Bareilly Ki Barfi is praiseworthy with melodious numbers such as Sweety Tera Drama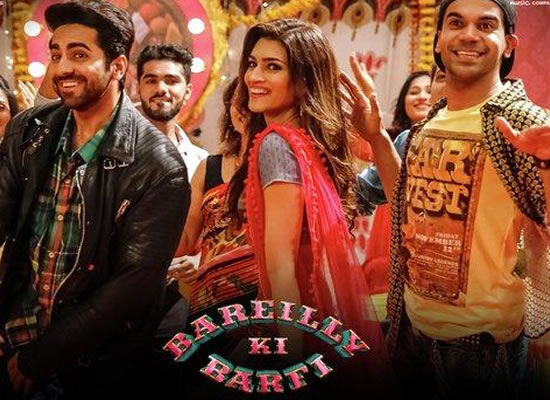 Bollywood stars Ayushmann Khurrana, Kriti Sanon and Rajkummar Rao are coming together for Bareilly Ki Barfi, one looks forward to how director Ashwiny Iyer Tiwari has worked with her team of composers and lyricists to put together something exciting, mainly considering the fact that the soundtrack has over half a dozen songs.
The album begins with Dev Negi, Pawni Pandey and Shraddha Pandit's Sweety Tera Drama that has a fun element to it with celebrations galore. The soundtrack begins on a high with this song that sets the tempo for the album, what with composer Tanishk Bagchi and lyricist Shabbir Ahmed wasting no time in creating the mood and then taking it forward right through those two and a half minutes.
The very next one is a love song in the form of Nazm Nazm. Poetic to the core, this one is sheer bliss, what with Arko giving a good account of himself all over again. He plays his triple role of being a composer, lyricist and singer quite well and creates a good romantic aura for the situation. This isn't all as there are a couple of added versions too that ensure that the song turns out to be memorable indeed. First to arrive is the one by Ayushmann Khurrana and the actor-singer ensures that he leaves a mark with this effort of his as well. He excels all over again and so does Sumedha Karmahe who is a surprise as a singer. She sings this one strikingly and justifies the opportunity for going solo here.
The next song is Twist Kamariya that could well be a sequel to 'Sweety Tera Drama' since it is pretty much alike in its spirit and execution. Tanishk-Vayu come together for both the lyrics and the composition part and ensure that there is good pace to 'Twist Kamariya' right through its two and a half minutes of playing time. While Harshdeep Kaur leads the show behind the mike, Yasser Desai, Tanishk and Altamash Faridi pitch in well too. It is a tuneful number.
Next one is Samira Koppikar's 'Bairaagii'. A Western-Indian fusion track that has its roots in melody, this one appears in a couple of version. First to arrive is the one where Arijit Singh leads from the front and the second has Samira doing the honors. Puneet Sharma's poetic lyrics give both the singers good enough material to relish their time behind the mike.
The album ends with song Badass Babuaa and turns out to be a rather an ordinary number. Composed by Sameer Uddin and written by Akshay Verma, this one is a core situational outing by Abhishek Nailwal & Neha Bhasin and doesn't serve much of a purpose beyond the film's tale.
In general, the music of Bareilly Ki Barfi does its job well to stick well to the film's narrative. The album is tuneful and harmonious.
Songs Sweety Tera Drama, Nazm Nazm and Bairaagi are melodious and tuneful numbers.