The music of Padman is a situational one with the tuneful numbers such as Aaj Se Teri, The PadMan So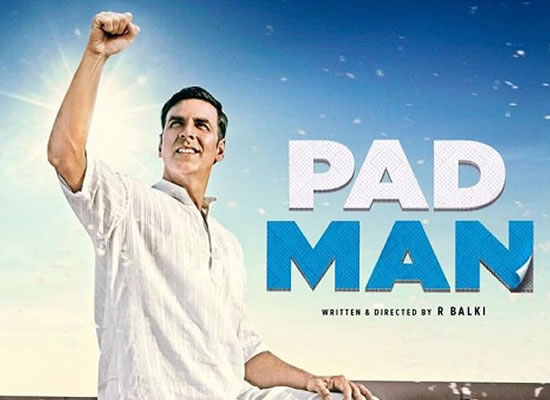 Recently, the melodic track Aaj Se Teri was unveiled, anticipations have been quite good from the music of PadMan. The kind of music that composer Amit Trivedi and lyricist Kausar Munir have put together for the opening track Aaj Se Teri, one is reasonably guaranteed that the other songs would be exciting as well.
The album starts with Aaj Se Teri that has Arijit Singh coming behind the mike and actually sounding relatively different. The instruments are kept at the minimal, hence allowing the lyrics and the vocals to take center-stage. It is a melodious one.
In the next song, Mika Singh sings The Pad Man Song. A sweet number that has additional vocals by Pragati Joshi, Deepti Rege & Mayuri Kudalkar, The PadMan Song has a good beginning to it, an inspiring 'mukhda' to boast of and then good follow up in terms of 'antara'. It is a tuneful number.
In the next song, Amit Trivedi brings himself on board for singing Hu Ba Hu. One surprises whether the song is picturized on Akshay Kumar and Sonam Kapoor since in the film both of them unite in their mission to manufacture and market low cost sanitary napkins across the length and the breadth of the country. It is the perfect combination of lyrics, music and vocals that come together quite well.
The next one is Mohit Chauhan's Saale Sapne and the core tune could well have been used for a romantic number instead. A sweet and simple number that gets etched in your mind, Saale Sapne is yet another tuneful track.
The last song is Sayaani, a celebration song which has all the women coming together to congratulate a girl who is now on the cusp of turning into a young woman. Yashita Sharma, Jonita Gandhi, Yashika Sikka & Rani Kaur come together for this situational number that should arrive at an important juncture of the movie. A feel good song, this is set in the interiors of the country with a typical Amit Trivedi sound complimenting the overall feel.
Overall, PadMan's songs have situational appeal as well as the commercial elements required for a Bollywood score quite well.
PadMan's songs as Aaj Se Teri, The PadMan Song, Hu Ba Hu and Saale Sapne are tuneful and melodious.