Shahid thinks I have no similarities with Kareena Kapoor Khan, says Alia Bhatt!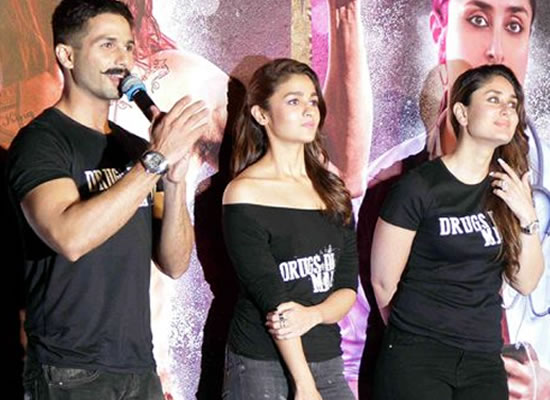 Alia Bhatt is a huge Kareena kapoor Khan fan. Time and again, Alia has expressed her love for Kareena. In fact, when both the actresses worked together in Udta Punjab, there were moments where Alia couldn't stop gushing over Kareena.
Given that there are often comparisons being drawn between Alia and Kareena, one wonders what does the gorgeous actress think of it.
In a chat show, when Alia was questioned about it, she s, "I was called baby Kareena for some reason, but I never thought there were any similarities between us."
She further went on to clarify that Shahid Kapoor, who worked with Alia in Shaandaar, disagreed to this common notion. Alia further adds, "I have worked with Shahid Kapoor very closely on two films now and he is someone who has spent a lot of time with her. He said that there are no similarities. Maybe because of the few words we constantly say like 'lurking', 'biggish', people draw the parallel from there."
On the film front, Alia Bhatt is presently prepping up for her upcoming movie Raazi. The movie also stars Vicky Kaushal in the lead and the movie is being helmed by Meghna Gulzar. Raazi is based on Harinder Sikka's novel Calling Sehmat.
When Alia was recently asked in an interview if she has read the book, she had said, ""I had not read the book when Meghna came to me about a year-and-a-half ago. There was just a basic one-line story idea. I told her that this is something that I would love to do. Usually, we green light a script, but in my head, I had agreed to do Raazi even without the script. It's a true story, and when I heard the turn of events, I had goosebumps. I couldn't believe it. Then, they came back to me and I read the first 20 pages of the story and I knew that if I want to do that one film a year that challenges me, this is that film. Actors want to do that one big Hindi film every year, but I want to do that one film that will completely challenge me and turn everything upside down. It happened with Highway, Udta Punjab, Dear Zindagi and now with Raazi. I am so scared and nervous to go on this journey, because of the kind of intensity of this character."