I wake up early now so that I can be with Taimur Ali Khan, says Kareena!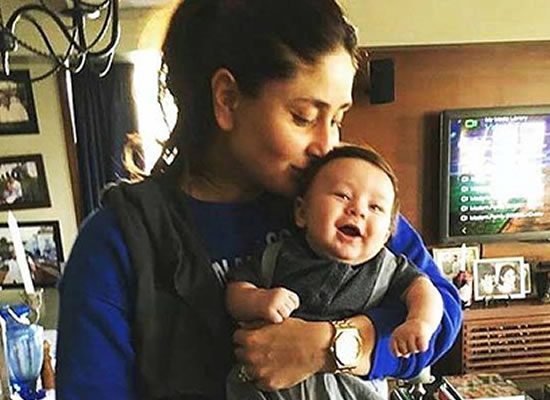 Actress Kareena Kapoor Khan's life has significantly changed ever since she has given birth to her son Taimur Ali Khan. The actress, who first rocked her pregnancy like a boss, is now making the most of her motherhood. At a time when actresses prefer staying indoors and away from the media, Kareena has gone all out and broken the myth.
From attending parties to visiting the gym, Kareena is all over. Yesterday, the actress conducted a Facebook Live with her dietician Rujuta Divekar, where she spoke about her son Taimur, husband Saif and how her life has changed.
When questioned about the change she has experience post Taimur's birthday, Kareena told, "I have started going to bed early. Nowadays, I wake up very early so that I can be with Taimur. I think I get to spend time with Taimur during the morning."
She further added, "Of course. That shift is natural. Earlier, it was just about me and Saif. But now, it's about three of us. But we are not feeling anything different. Because we looked forward to it. We wanted a family."
Kareena also disclosed as to how she will start making Taimur eat ghee now. Kareena revealed, "Taimur is also going to start having ghee now. It's a good time for him to start eating ghee."
The beautiful actress also spoke about her husband Saif and his interest in cooking. Given that Saif recently learned cooking for his movie Chef, he has been trying it all in the kitchen these days. "Saif Ali Khan is cooking a lot these days. He has also been preparing for his role in Chef. So he is cooking pasta and is eating all of that," confesses Kareena.
On the film front, Kareena Kapoor Khan is gearing up for the shoot of Veere Di Wedding. The movie is slated to go on-floors in September and also stars Sonam Kapoor, Swara Bhaskar and Shikha Talsania in the lead.